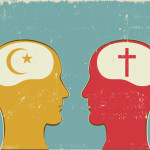 A Muslim & Christian Family Gathering
February 27, 2016  3:30pm
A time of fellowship and discussion between the congregation of Symons Valley United Church and Al Madinah Calgary Islamic Assembly Symons Valley Prayer Group.
Members of the public are welcome to join us as we take time to get to know one another, learn from each other and share a meal together.
This is a gathering for people of all ages. There will be free Children's Program offered that will run at the same time as the Panel Discussion.
Following the Panel Discussion, we will share a Potluck Supper together.
Bring a pork-free dish to share. If you are able to make your meal halal, that would be much appreciated. Please include a list of ingredients with your dish.
Please join us for a time of respectful dialogue and getting to know one another.
UPDATE: We are excited to announce that City Councillor (in his role as Deputy Mayor) Joe Magliocca, the MLA for the area, Prasad Panda, and the area MP, Pat Kelly, will all be attending. and participating in an open mike time for comments and questions.
Schedule of events
3:30 pm Gathering & Visiting
4-5:30 pm Panel Discussion with a Children's Program running concurrently
5:30-6 pm Visiting, Supper set up
6 pm Potluck Supper
Please contact Vicki (403.274.2361) for more information.