Gerrard Street mosque to offer free hot meals daily
New program open to everyone regardless of creed or background
Inside Toronto | July 21, 2012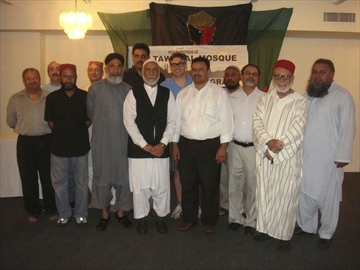 Gerrard Street mosque to offer free hot meals daily
Beach Mirror
A mosque in the Little India neighbourhood will start providing daily hot meals to less fortunate area residents of all faiths and walks of life Saturday, the first full day of the Islamic holy month of Ramadan.
Members of the three-year-old Masjid Al-Tawakal, which is on the second floor of 1330 Gerrard St. E. at the corner of Highfield Road, launched the new program Tuesday, July 17 in the lower level banquet hall of the same building, which is owned by area resident/entrepreneur Choudhry Umer.
"The time was right to get this program underway. It's been on my mind for some time and now it's finally started," said Umer, who has lived and worked in Little India-area for the last 13 years and has seen firsthand the many challenges low-income people from the city's east end face to make ends meet.
"Everybody is entitled to have food and water and we would like to help everyone."
For the past three years, Umer has provided free food to needy people during Ramadan, but always wanted to expand his efforts into a daily program.
His dream will come true Saturday, July 21 thanks to his faith community, as well as loved ones and friends, many of whom have pledged their financial support for the new program, which organizers believe is only the second of its kind at a Sufi mosque in the GTA. Sufism is an aspect or dimension of Islam.
The new daily food program will run from 8:30 to 9:30 p.m. during Ramadan (July 21 to Aug. 18) and at lunchtime the rest of the year. Food will be served on the building's main level and all are welcome.
"This place is going to be a very busy place during the month of Ramadan," said Imam Syed Soharwardy, the mosque's lead imam, explaining Ramadan is a time for those of the Islamic faith to reach out to others through acts of charity and kindness.
Throughout the holy month, Muslims fast from dawn to dusk to show their compassion and understanding for those who don't have enough food to eat or water to drink. Special nightly prayers are also recited.
"We are very fortunate we live in a country where God has given us an abundance of everything. How we can be thankful is to share those blessings," he said, adding the new program was started for two reasons: to follow the Islamic tradition of helping and sharing with others, as well as to bring people of all faiths together to break bread as a community.
"We believe a lot of community members should benefit from this free food program."
Soharwardy estimates anywhere from 50 to 100 could make use of the new program each day and said no one would leave hungry.
For more information, call Soharwardy at 416-994-5467 or Umer at 416-986-5035.