"Not in Our Prophet's Name" says Islamic holiday anti-terrorism campaign
Inside Halton | January 11, 2015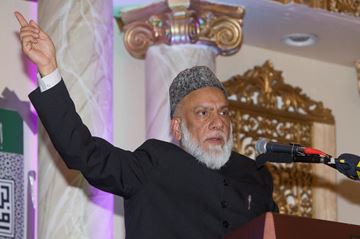 Not In Our Prophet's Name
Staff photo by Bryon Johnson
The founder of the Islamic Supreme Council of Canada and Muslims Against Terrorism, Imam Syed Soharwardy, speaks at Chandni Banquet Hall in Brampton on Saturday night.
Mississauga News
BRAMPTON – Nearly 2,000 faithful followers packed the Chandni Banquette Hall on Saturday to celebrate Eid Milad un-Nabi, the 18th annual international conference and celebration of the prophet Muhammad's birth.
"We had a speaker and religious singers from Pakistan and refreshments to celebrated the birthday of prophet Muhammad, peace be upon him. We take a lot of pride and we thank all-mighty Allah for making us his followers … (It's a) celebration of (the prophet's) birth and message." said professor and Imam, Syed Soharwardy.
Muslims the world over celebrate the holiday, which according to the Muslim calendar fell on Jan. 4 this year. However, events are set to take place in cities across the country every weekend over the next few months.
"The problem is that we travel to every city in Canada and cannot do one program on one city. So we celebrated on his birthday and this program stretches over three months. It's a three-month-long birthday bash," said Soharwardy.    This year, an anti-terrorist campaign called 'Not in Our Prophet's Name' is running alongside religious ceremonies and celebrations, a theme Soharwardy says is in direct response to recent attacks by Islamic extremists in France and Canada.
Soharwardy is the founder of the Islamic Supreme Council of Canada (ISCC) and Muslims Against Terrorism (MAT) and was one of four featured speakers on the night. He will be joining the travelling celebration and conference to carry that same message to Canadians for the duration of the tour.
"(The Paris attackers) claimed that they had taken revenge for the prophet. We don't consider it revenge, but that it was their personal agenda, political desire or ideology and they were hiding behind our prophet," he said.
While Soharwardy admits that no Muslim likes cartoons mocking their prophet, he is adamant Islam demands a peaceful resolutions to such conflicts when they arise.
"We believe in a prophet of mercy. If you believe in a prophet of mercy, how can you kill people in his name?" he said.
"Disagreement can be expressed through peaceful ways; through dialogue, education or through the judicial system, but not by killing. So those who killed those people were wrong, un-Islamic, and committed a crime. We don't consider them part of the Islamic community and we condemn all of them," he added.
Soharwardy has been a longtime campaigner against terrorism and violence, founding MAT in 1997 – four years before 9/11. In 2008 he walked across the country over seven months in an initiative he spearheaded called the Multi-faith Walk Against Violence to raise awareness.
He says that, much like Christianity, there are many sects within Islam and most of the extremists come from an offshoot started in Saudi Arabia called Wahabi-Salafi-Deobandi Muslims, who he says are as ideologically opposed to other Muslims as they are to the West.
"They disagree with anyone who disagrees with them and are responsible for many times more Muslim deaths than Westerners they have killed. They are a common enemy to all peace-loving people including the majority of Muslims," he said.
Saturday was the national tour's inaugural event and while held in Brampton, was actually aimed at Mississauga's Muslim community. A second stop will be made in Brampton for that city tonight.
Organizers say that the events are not just religious ceremonies and that all are welcome at both the services and the accompanying anti-terrorism workshops.
Visit iscc.ca or m-a-t.org for more information.
Jan. 12, 2015