Calgary Muslim community remembers Muhammad Ali
My Kawartha | June 05, 2016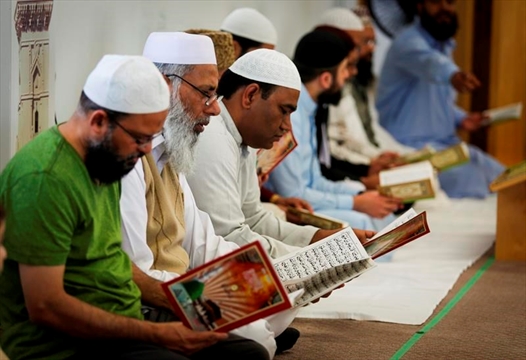 Calgary Muslim community remembers Muhammad Ali
The Canadian Press, 2016
Men pray during a memorial service for boxing legend and Muslim Muhammad Ali at a mosque in Calgary, Alta., Sunday, June 5, 2016. Calgary's Muslim community remembered Ali as a great champion of their religion, human rights, and social justice.THE CANADIAN PRESS/Jeff McIntosh
CALGARY — Members of Calgary's Muslim community remembered Muhammad Ali on Sunday as a great champion of their religion, human rights, and social justice.
The gathering of about 60 at the city's Green Dome Mosque joined in a wave of global memorials for the boxing champion and citizen of the world. Ali died last Friday, he was 74.
Imam Syed Soharwardy said he organized the Calgary service because Ali was part of the global Muslim family and was a great ambassador for the religion.
"He was our brother who always stood up for human rights, for dignity of human life, for social justice for all," said Soharwardy.
He said he met Ali in 1993 in Saudi Arabia and saw how the former boxer made Muslims proud of their faith.
"I saw him personally inspiring Muslims," said Soharwardy. "He was a great and true ambassador of Islam, who has inspired Muslim youth around the world."
He said the Calgary memorial was also a way to remind Muslim youth, who made up most of the gathering at the mosque, of how Ali inspired a generation.
Fifteen-year-old Hassaan Rizvi said Ali helped him refocus his faith and was a role model both as a boxer and a Muslim.
"Muhammad Ali he became my inspiration because he says I want to preach my religion, I want to make my God happy. I want to know my religion better. That's what he did."
Rizvi, who is a volunteer at the mosque, said he was glad to have been able to participate in the ceremony.
"This was very important for me because I was a very very big fan of Muhammad Ali," he said.
The message of Ali's importance was also passed on to some of the younger kids who attended.
Asked what he knew of Ali, seven-year-old Hasan Noonari said "he was a person that was really good to our religion, and he was a really good boxer, and he died at the age of 74."
Elsewhere in Canada Muhammad Ali's death was marked with a traditional 10-bell salute in boxing rings in Montreal and Victoria Saturday night.
Ali's funeral will be held Friday in his hometown Louisville, Kentucky.
By Ian Bickis, The Canadian Press